Our Toner, Ink & the Environment
We ensure we have the latest eco friendly technology available.  Below is some information about our toners and inks.
Our Toners
Our main production printers use toner rather than ink. We use both Xerox and Ricoh production printers.
Here's some information from Fujifilm
"Unlike some liquid ink technologies used in the industry today, with Fujifilm dry toners there is no use of petroleum distillates. Petroleum distillates are combustible, produce oil waste that needs to be carefully managed, and potentially contribute to volatile organic compound (VOC) emissions in the work environment."
"Sometimes customers wonder how our toners compare to vegetable based inks such as "soy inks". The use of soy-based inks is desirable in traditional offset printing because, by substituting the soy oil for part of the petroleum oil, volatile organic emissions are reduced. In contrast, the Xerox production presses such as iGen use dry toners, not liquid inks. Toners are fine powders composed of plastics, colorants and small quantities of functional additives. Since Fujifilm toners are safe and non-toxic and because Fujifilm products are designed to adhere to strict emission standards, emissions of volatile organic compounds during printing should not be a concern (as it might be in offset printing and some digital liquid ink technologies)."
More information about Fujifilm (Previously Xerox) toners
Environmental information from Fujifilm
Environmental information from Ricoh
As a side note, we recycle all our toner cartridges through the Fujifilm and Ricoh recycling schemes.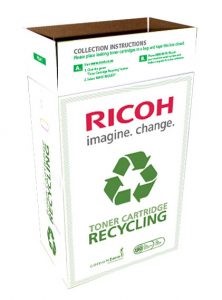 There is also an interesting article on the Ricoh website about their toners complying with food safety guidelines.
Click here to read
Our Wide Format Inks
Our wide format printer is an HP Latex machine which uses water based inks
"HP Latex Inks are pigmented, water-based inks designed for commercial and industrial printing applications. These new inks use HP's innovative aqueous-dispersed polymer ("Latex") technology to provide print durability and display permanence comparable to solvent inks. The water-based formulation provides clear advantages over solvent inks by reducing the total impact of printing on the environment and facilitating an improved print production environment"
Our Fujifilm Vybrant Flat Bed printer uses UV inks
"Uvijet KI Inks do not contain ozone-depleting chemicals as described in the Montreal Convention. They are formulated free from aromatic hydrocarbons known to have an adverse effect on the environment. They are free from any volatile solvent and therefore beneficial to the environment when compared to solvent-based products."
Fujifilm's commitment to environmental responsibility has been recognised through achieving UL GREENGUARD GOLD certification for its Uvijet UV range of inks. GREENGUARD helps manufacturers create, and customers choose, interior products that support healthy indoor environments through low chemical emissions. Certification means that a product has been rigorously tested and shown to have low emissions of volatile organic compounds (VOCs). To maintain its accreditation by GREENGUARD, a product must be monitored regularly, with on-going routine testing.