Stuck for a gift idea?
Give a gift with meaning. A special photo or maybe even a copy of your own artwork printed onto canvas and stretched to a frame makes a great gift for family or friends.
Office walls looking a bit bare?
Canvas prints look professional and modern. Plus, they can be great advertising in your shop or office. Why not add your company logo to the image?
Its inkjet coating is specifically designed so it can be stretched over a frame and resist cracking.
Print Options
Sizes:
From A5 up to A0 or your custom size.
Media:
Clara Canvas is our premium canvas media. It is a natural looking canvas and 320gsm thick.
Tips & Templates
There is nothing quite like having your favourite photo printed onto canvas and then stretched over a frame ready for hanging – but if you are preparing your files yourself there are a couple of things to note. Design When you prepare your file and want to have the image wrap round the edge of the frame, you have to allow enough image for the edge and a little extra to wrap round the back of the frame. The frames come in two widths, 20mm or 30mm depth. When supplying your images for printing and stretching you need to make allowance for canvas that is wrapped around the frame. We suggest that you add the depth of the frame (either 20mm or 30mm) plus an extra 10mm that will be on the back. Below is an image that is to be framed on an 30mm A3 frame. The total dimensions are 420+60+20=520mm x 297+60+20=397mm. The light grey indicates the part of the image that will appear on the side of the frame, while the darker gray shows the image that will be on the back of the frame.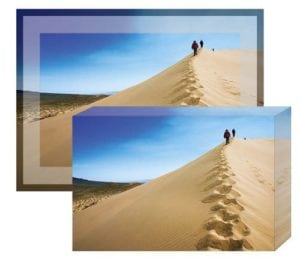 Ideally we suggest that you avoid having solid full colour on the frames edge. Because of the stretching process we can't guarantee that the edge will be completely straight and exactly on the frame edge/fold. If your image does not have enough area to wrap on the frame then we suggest that you use your imaging program to create the extra image area. Often it is as easy as creating a reflected component.