CD/DVD Services:
Print directly to CD/DVD including full face
Print on CD/DVD Labels
Supply a wide range of CD/DVD packaging & storage solutions
Print and insert CD/DVD case inserts
Write information to CD/DVD
CD, Pressed Compact Disk, Single Layer DVD, Dual Layer DVD
Supply a wide range of blank CD's and DVD's
CQ can write all your precious information to CD or DVD. This information could be the job that you have just emailed through or you may be travelling and your camera memory card is full. Come in and our professional staff can back it all up for you.
Or maybe you need 100 copies of a multimedia presentation you have developed. CQ can do that, along with printing on the front of the CD and jewel case inserts.
If you are designing your own labels for either CD or DVD then you can find all the information for creating your design in the tab below. You can also view templates for our CD Cases (including the pre die cut cardboard case) and DVD Cases.
Print Options
Print Direct to CD/DVD: Can be printed full colour or black and white direct onto printable CDs and DVDs. CD/DVD Labels: These are printed 2 labels per A4 sheet and can be supplied flat as labels only or applied to CDs or DVDs. CD Case Insert: The front CD case insert can be printed single or double sided or can be 2 panels and folded.  A back CD case insert can also be printed for the standard jewel case.  This is printed single sided but has 2 small flaps that fold around to the sides of the case. DVD Inlay (Slick): This is printed single sided and slipped inside the plastic cover on the outside of the DVD case. DVD Insert: This is printed single or double sided and can also be folded or made into a booklet and then fitted inside the DVD case on the left hand side.
CD/DVD Printing
CQ has a number of different methods of printing onto CDs. The templates below are for short run adhesive labels or for inkjet printable CDs. If you are preparing a label for mass produced CDs and the label will be silk screen printed onto the surface, then we will supply specifications for this type of label. Printing Directly onto CD/DVD CD's with an inkjet printable surface are now widely available and is the preferred method of labelling CD's. Please supply your file in high resolution jpeg, tiff or pdf format 120mm x 120mm. If fonts are used, they need to be converted to curves. No need to include the dyeline, bleed or hole in the centre in the final artwork, since this is done by the labelling software, however you should keep it in mind for designing purposes. Alternatively a HIGH RES tiff or JPEG will work, but pdfs guarantee better text quality. We suggest you avoid putting important information closer than 3mm to the edge of the image. We also now have new Watershield CD's available if you prefer a smooth glossy look.
Adhesive Labels Adhesive CD labels are supplied 2up on an A4 sheet of adhesive stock. As they have been die cut you need to be careful to follow the template to ensure that your print is on the label. Due to the potential for mis-registration to occur we suggest that you design with a minimum of 4mm bleed and avoid anything being closer than 3mm to the edge of the label.

CD Cases
CQ has a wide range of CD and DVD storage/case options. A few templates are shown below. Should you require further help please don't hesitate to contact us. Jewel Case 2 panel (4 printed pages when folded) front insert for standard and slimline jewel cases Insert is folded down the dotted line. If printed on heavier than 120gsm it will be creased and then folded. NB: for a single panel insert design artwork 120mm x 120mm with a 3mm bleed.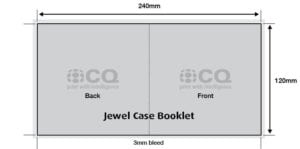 Back insert for standard jewel case only Insert is creased or perforated down the dotted lines to allow it to fold up into the back of the case.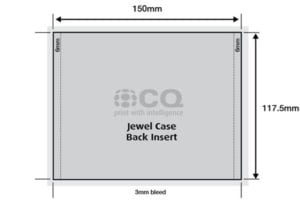 Pre Die Cut Card CD Cases
CD + DVD Label Template
CD +DVD Printing Template
CD Jewel Booklet Template
CD Jewel Case Back Template
DVD Cases
DVD Inlay (Slick) Wraps around the outside of the DVD case behind plastic cover.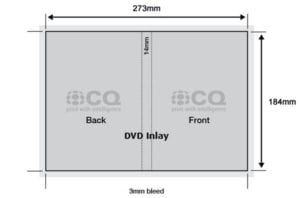 DVD Insert Is folded and fitted inside DVD case on the left hand side.