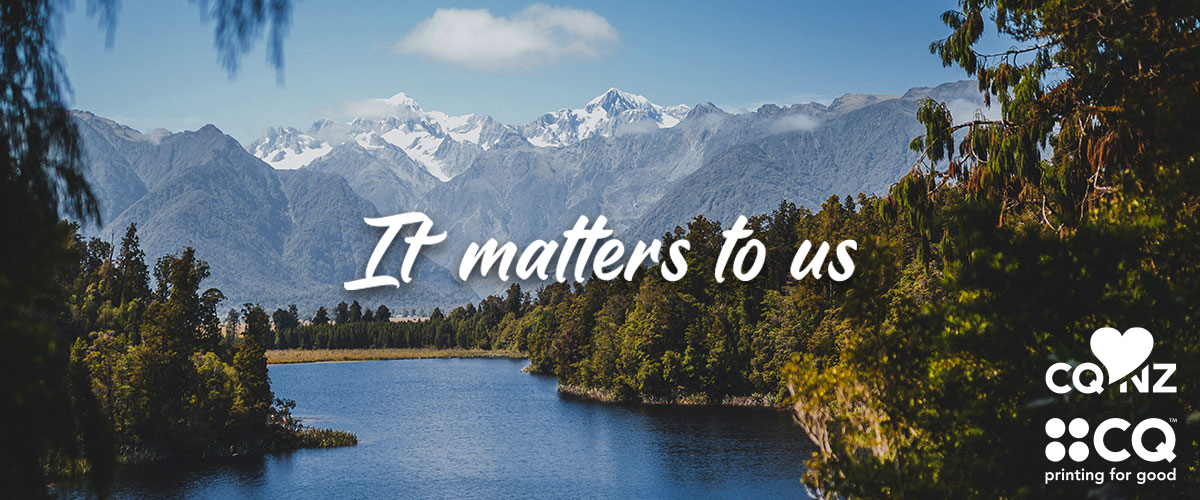 CQ as a business has a real commitment to excellence in our processes and aim to be NZ's Greenest Printer. We have a comprehensive Environmental Management System in plan and in December 2019 we achieved gold standard with Toitu Envirocare.
CQ is proud to be Kiwi owned and operated. As New Zealanders, we feel there is a responsibility to protect the beautiful land we live in. Accordingly, we seek to actively manage our operations so that we have a positive effect on the environment.
We are committed to:
Keeping waste products to a minimum by recycling and reusing
Conserving energy by managing our machines effectively and efficiently
Investing in the most efficient and eco friendly technology available
Using environmentally friendly products wherever possible
Educating staff and customers in ways to protect the environment
Sourcing our paper from sustainable sources
Offering customers a full range of recycled paper stocks
Promoting Print on Demand
Promoting our Reuse initiative

Look out for the Reuse logo on our products. These products are part of our Reuse initiative and promote sustainable living. Our roll up units are great.  Return them to CQ and we can reskin these for your next promotion.
Print on demand
Reduces the need for storage, saving space and resources as well as reducing the possibility of stock becoming out-dated and useless. Print what you want! When you want it! eg: no ordering 1500 and only using 900