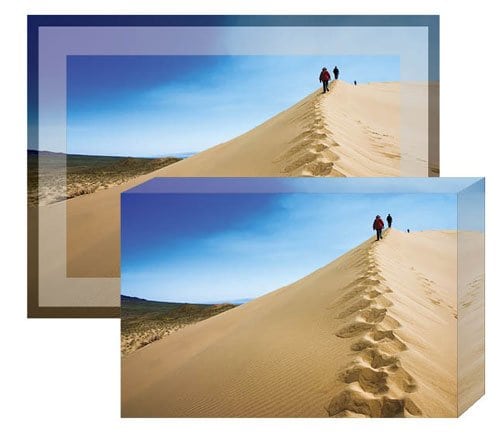 There is nothing quite like having your favourite photo printed onto canvas and then stretched over a frame ready for hanging – but if you are preparing your files yourself there are a couple of things to note.
When you prepare your file and want to have the image wrap round the edge of the frame, you have to allow enough image for the edge and a little extra to wrap round the back of the frame.
The frames come in two widths, 20mm or 40mm depth. When supplying your images for printing and stretching you need to make allowance for canvas that is wrapped around the frame. We suggest that you add the depth of the frame (either 20mm or 40mm) plus an extra 10mm that will be on the back. Below is an image that is to be framed on an 40mm A3 frame. The total dimensions are 420+80+20=520mm x 297+80+20=397mm. The light grey indicates the part of the image that will appear on the side of the frame, while the darker gray shows the image that will be on the back of the frame.
Ideally we suggest that you avoid having solid full colour on the frames edge. Because of the stretching process we can't guarantee that the edge will be completely straight and exactly on the frame edge/fold. If your image does not have enough area to wrap on the frame then we suggest that you use your imaging program to create the extra image area. Often it is as easy as creating a reflected component.
Please also ensure that you follow the resolution guidelines on the Wide Format Preparation page to ensure your image is printed at the best quality.